Atlas
printed matter
perfect binding
2019︎
This publication dedicates to a journal of uncertainty after relocating to Providence. I encouraged myself during this project to walk out of my comfort zone, both mentally and geographically, by visiting unfamiliar places and encountering new people. During my explorations through this journey, I started looking at this city from a whole new perspective, revealing the unseen glitches of this city—accessibility and inaccessibility.
---
Knot Simulation

3d scan
printed matter
staple binding
2019︎

This fold-in accordion book is an inquiry into value and ownership. In the modern age, the traditional making process has rapidly shifted due to digital tools; their use is unavoidable. Due to mechanization and the industrial consumption of materials like aluminum, the fiber rope has entirely lost its value. Therefore, a critical step in my investigation was the juxtaposition of physical and digital simulation of the knot. This is the result of digital tools becoming a significant part of society. Thus, the juxtaposition between physical simulation and digital simulation is critical. During this process, I lost ownership over this knot. I could merely control the tool, and the result beaome unpredictable.
---
Digital Oasis

webiste
live streaming
interactive
2020︎

Please interact with the above website (You can drag the items with the mouse). Actual experience may vary depends on the livestream from Monterey Bay Aquarium.

I love watching cute animal livestreams, they serve the purpose of an oasis in a desert—a peaceful moment during the pandemic. But that is a very bizarre use of the webcam, which is merely just a surveillance tool. Why do we believe that in fact webcam must always be running as long as it has an indicator that tells you it is 'live'? I saw the reanimation and reimagining of the webcam as a design opportunity. I hacked and misused the webcam function—when you go to this otter website at night, the webcam is off—the otter sleeps. Therefore, it has no value to visit such a website at night. In a way, the webcam has to follow the rules of the biological ecosystem. It turns out a webcam cannot deliver the 24/7 aspect of the internet as it claims to.

---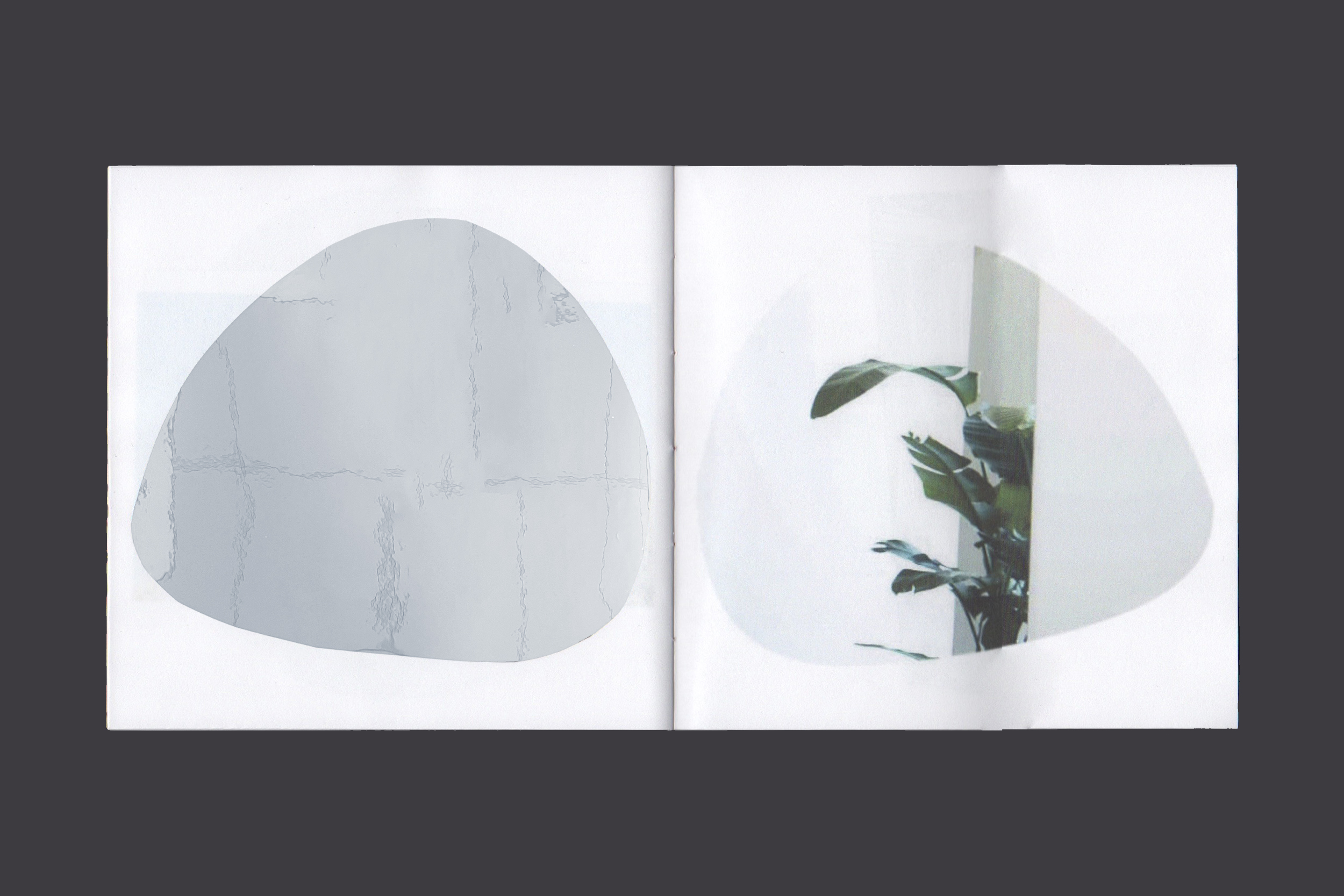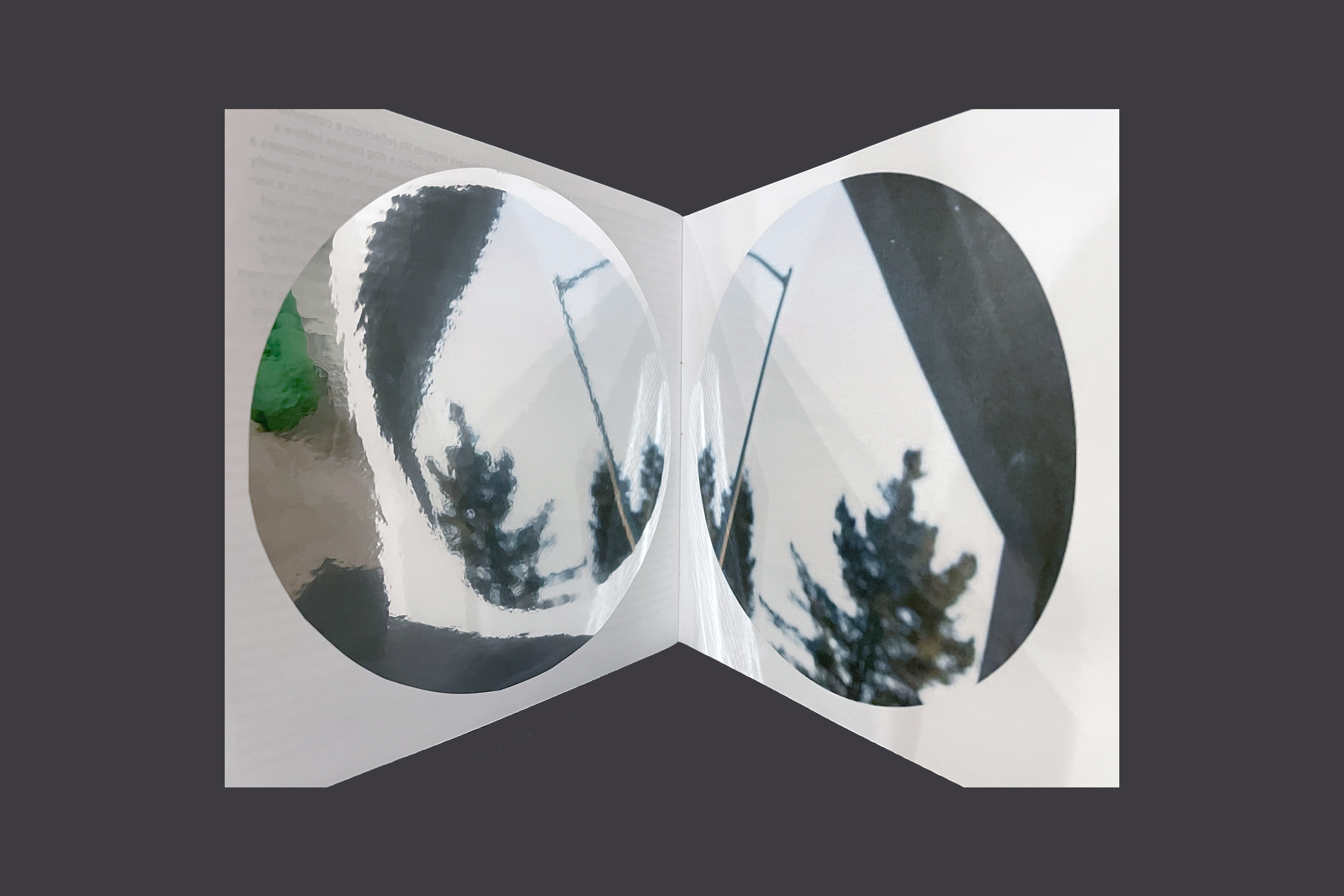 The Strange Allure of Mirrors

printed matter
saddle stitch binding
2018︎

This publication serves as an exhibition catalog—an exhibition that happened at CCA Hubbell Street Gallery in 2019. By using reflective material, I translated the mirror into a book format. This catalog contains artists' projects, essays, and photography.
---
Encyclopedia of Olympic National Park

printed matter
smyth-sewn binding
2019︎

This encyclopedia is for the Olympic National Park in Washington State. The park features a spectacular coastline, scenic lakes, majestic mountains and glaciers, and magnificent temperate rainforest. It is also a World Heritage Site. By analyzing and deconstructing the park from geologic history to human history, coastline to temperate rainforest, climate to the restoration project, the book presents this fantastic place and how human activities impact the park.
---
Reclaim

printed matter
smyth-sewn binding
2018︎

This is a thesis book and an exhibition catalog combined with four individual exhibition catalogs for the four exhibitions that I curated during my last year at CCA. Reclaim is a thesis about rethinking our relationship with the space around us, reclaiming unused space, and turning it into an exhibition site. The thesis challenges white cube gallery space; the book challenges the conventional way of making an exhibition catalog.
---
Horse Race

motion graphic
3-panel video installation
2020︎

This 3-panel video installation is part of a horse racing rebranding project. More details are available on request.
---
42 Posters

printed matter
loose binding with pattern-matched rubber band
2018︎

This conditional design book follows design restrictions. It responds to the "How Posters Work" exhibition at the Cooper Hewitt Museum in New York. The book contains 42 posters that 42 graphic designers around the world make. Loose binding allows you to take out each page individually and turn it into a double-sided poster.
---
Creating the Field

printed matter
coptic stitch binding
2018︎

This publication is my personal typographical interpretation of five essays that inspired me to pursue graphic design.
---
Web to Print

motion graphic
3-panel video installation
2019︎

This 3-panel video installation was created for an exhibiton—Web to Print, which happened at CCA Hubble Steet Gallery in 2019.
---
Design Index

website
printed matter
2017︎

As I build my technical practice, it is also essential to form a basis in the intellectual aspects of Graphic Design. By creating a cohesive and systematic project that includes three volumes of the book, a poster, and a website, this project explores a new possible form to organize and navigate the collected art and design references.
---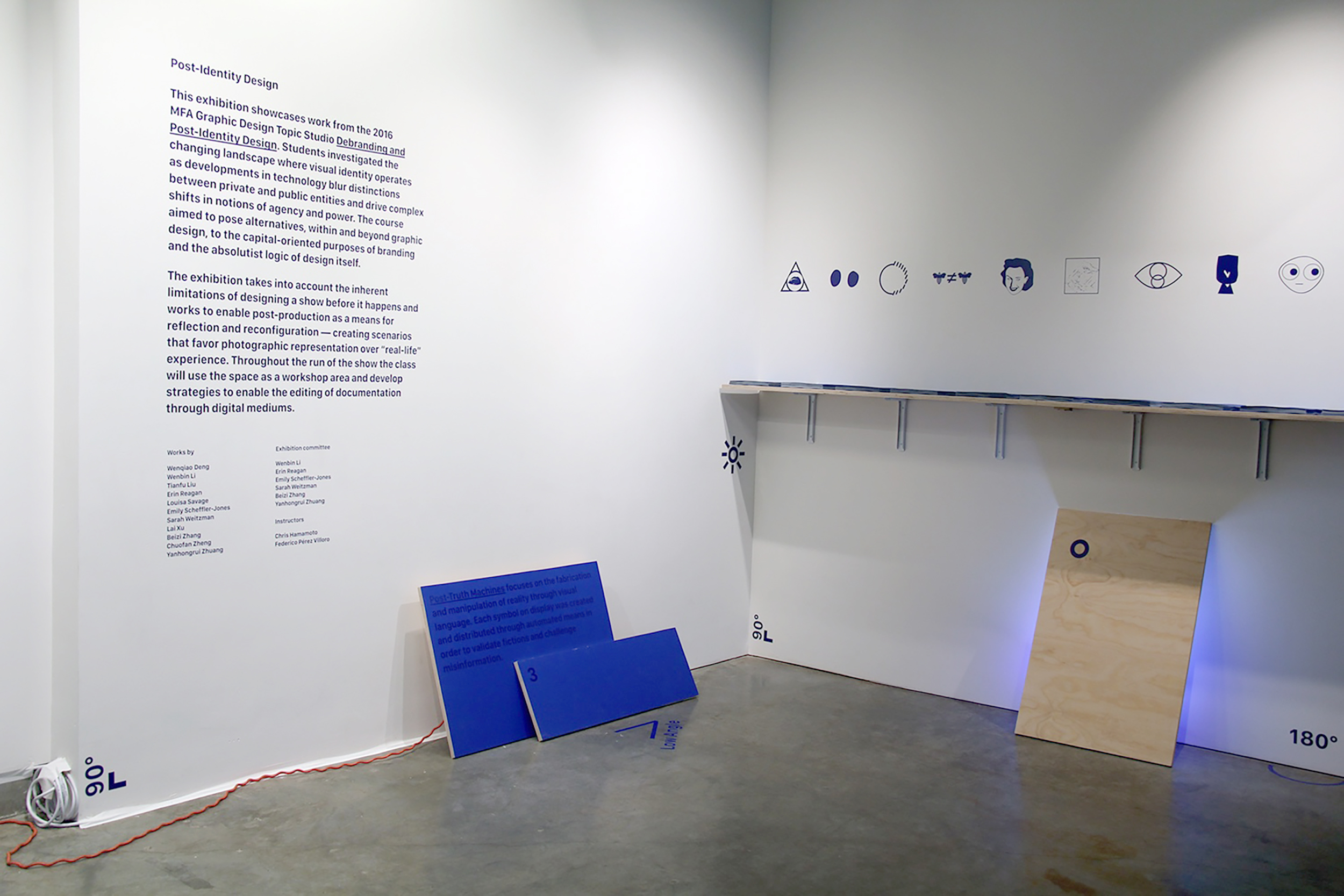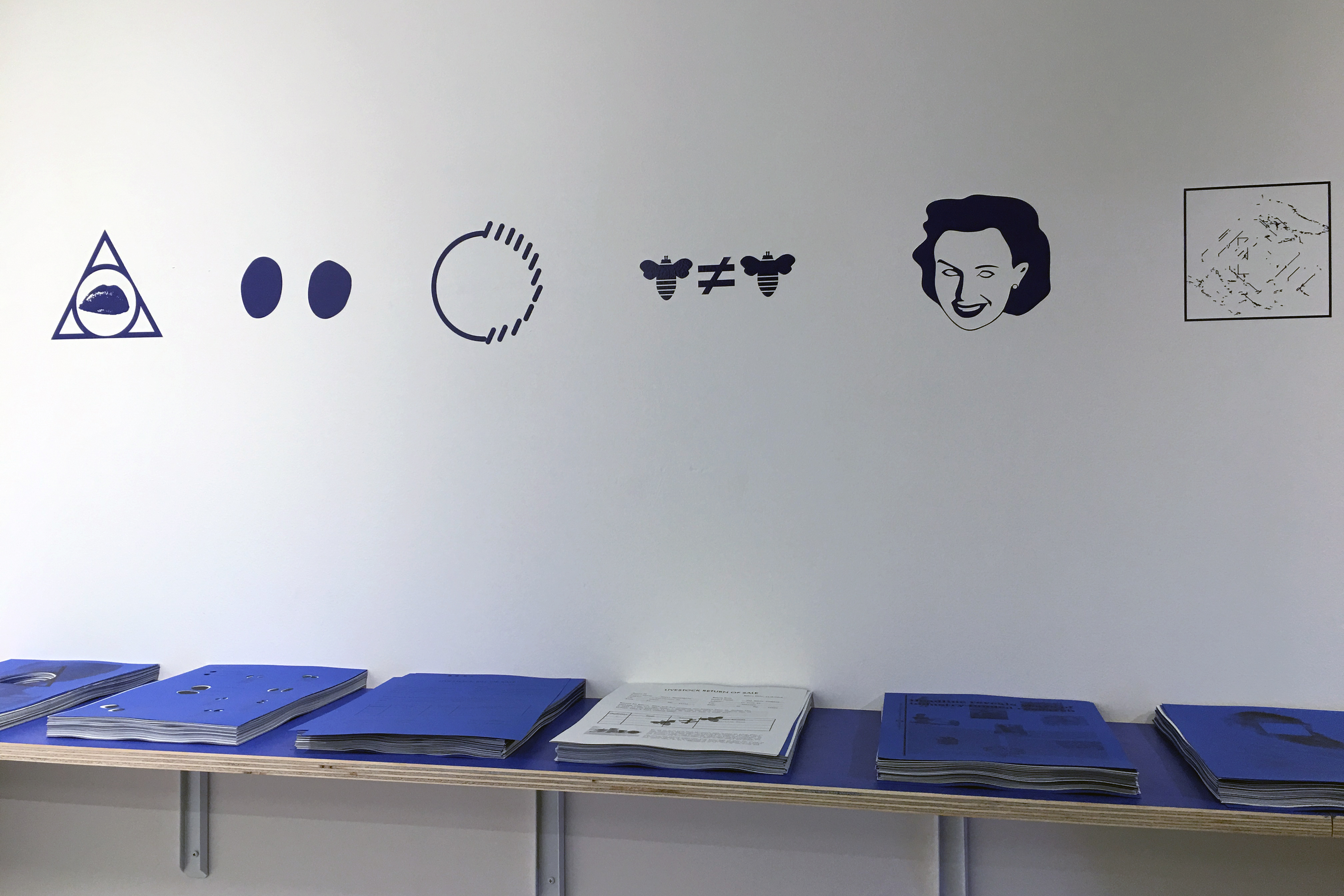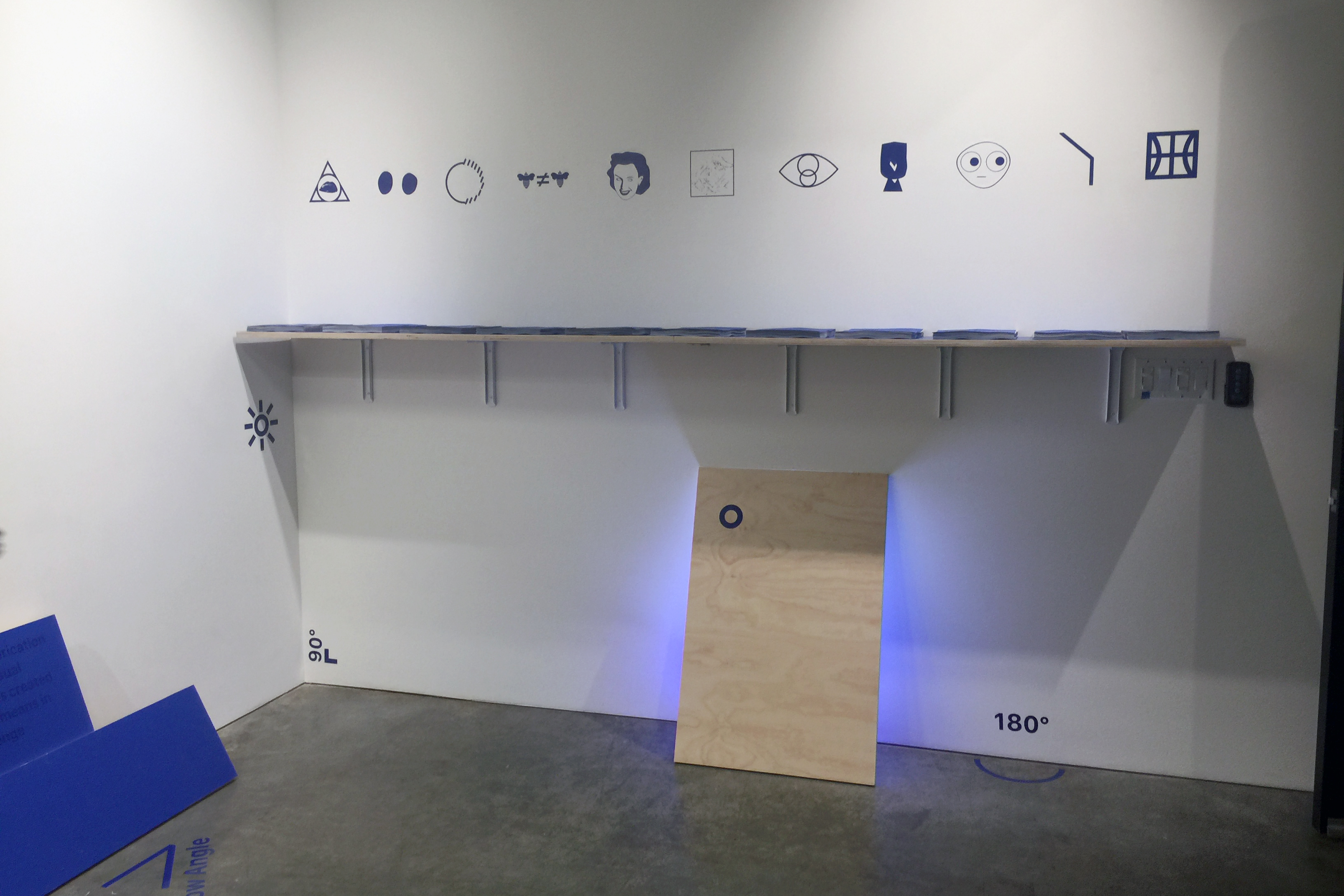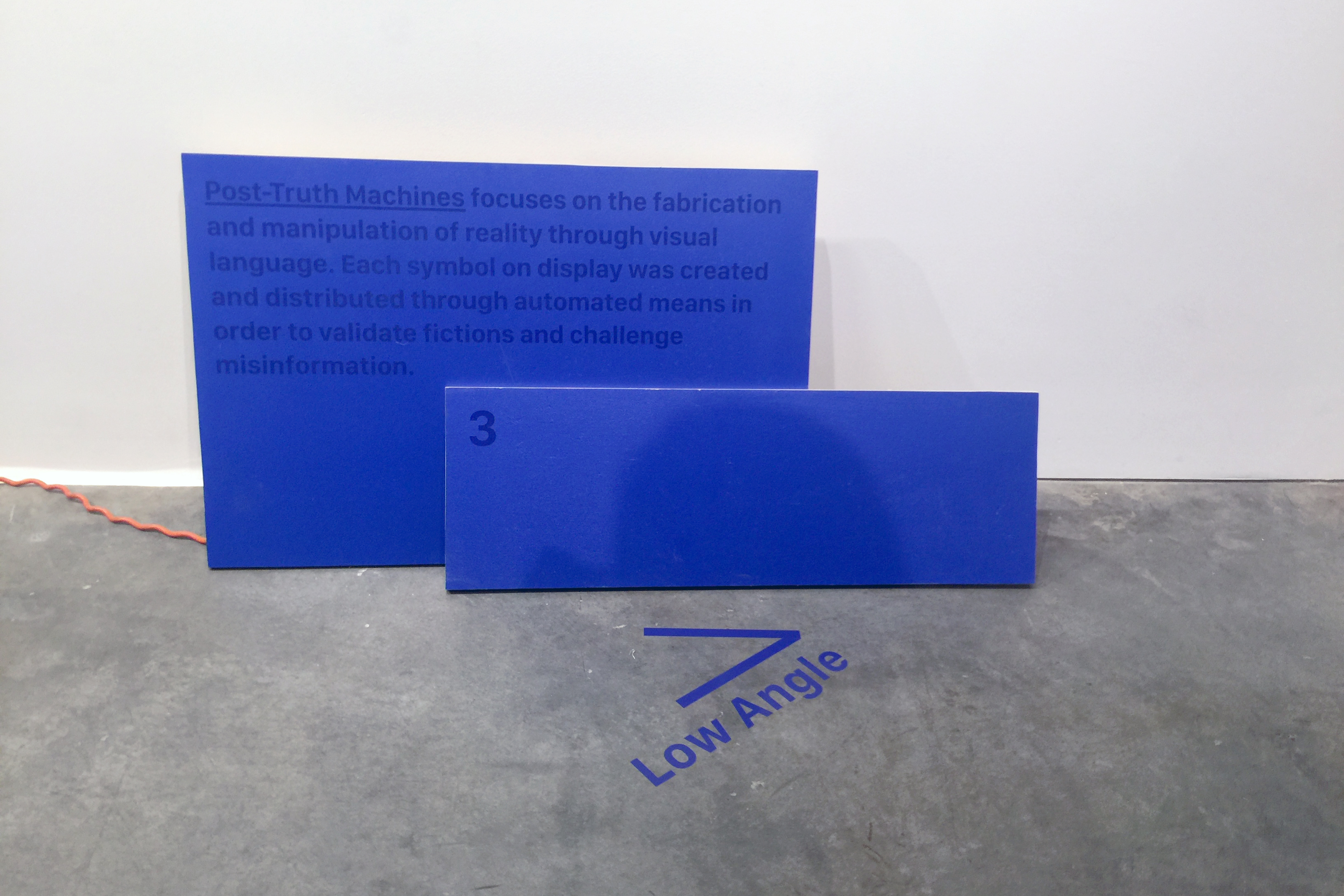 Debranding and Post-Identity Design

website
exhibition design
2016︎

An interview is available with Walker Art Center.
You can access to the exhibition website.

This exhibition is for the topic studio questions the current state of branding and identity design as developments in technology drive rapid changes in visual communication. The exhibition analyzes how information platforms are enabling complex shifts in governance as state and non-state powers embrace surveillance, digital propaganda, and globally distributed networks of data, in their own brand strategies. We investigated the impact of this evolving landscape and challenge social norms of identity design on a personal, commercial, and political level.
---
Hyper Dream

website
interactive
2021︎

Please interact with the above website (Keep scrolling). ︎
Toilet paper is usually considered a mere utilitarian object—ubiquitous, used, discarded. However, with the escalation of the COVID-19 pandemic in March 2020, toilet paper underwent an immediate change in classification, becoming a premium product sold out in stores nationwide. The website is a meditation, a process, and a website inspired by this shift in collective perception. The immediacy of the transformation offered a moment of slowness, of reflection. The last piece of toilet paper on the roll had always been negligible but was elevated overnight into preciousness. I began saving these final pieces, as one does with precious objects, and in doing so, started seeing these pieces as forms of serendipitous folds—as media in and of itself. If you consider toilet paper as media, you can readily see how it shares a form with other, more conventionally understood media such as cassette or VHS tapes, which also feature a long strip wrapped around a cylinder.
---
The Index of My Desk

printed matter
coptic stitch binding
2017︎

This layered booklet is part a series of project—a new classification system that organizes all the items around you. It is inspired by the Library of Congress Classification System. By combining patterns are created with Adobe Photoshop 1.0 on Apple Mac OS 7, each item can be categorized by one set of posters. By considering the physical space versus the book space, all the posters are made into a classification catalog.
---
Flooded Shell Gas Station

3d render
animation
2018︎

Stills from the animation.
---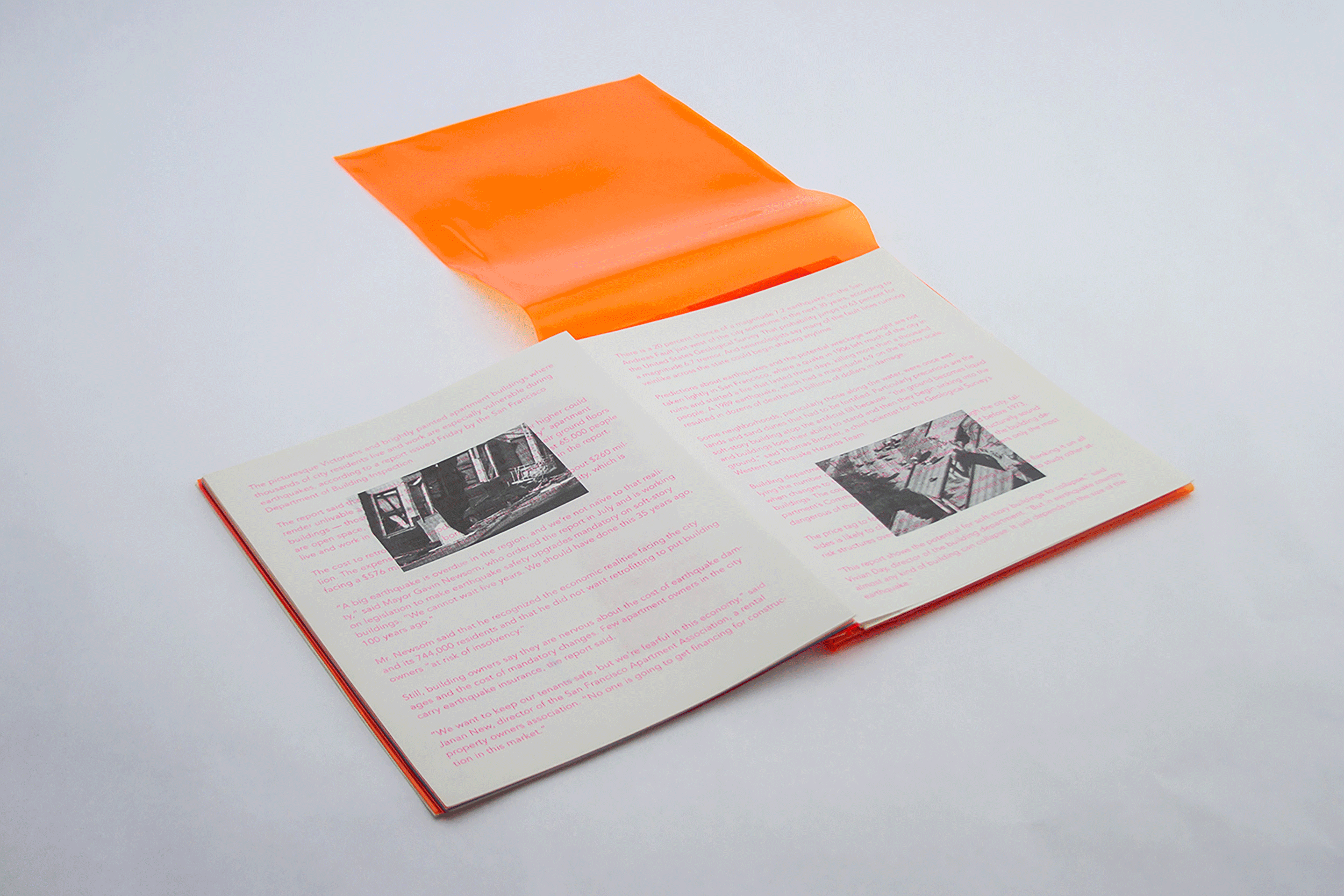 Paper is Stronger than Concrete

printed matter
Japanese book clip
2017︎

This book is about a luxury residential high-rise which is sinking and tilting in San Francisco. By playing with physicalities of light, tinted vinyl and color ink, this book responds to the post-truth politics culture. Even a Japanese book clip is stronger than a building. This book was featured at San Francisco Art Book Fair in 2018.
---
48 Ovals

printed matter
staple binding
2020︎

In Stanley Kubrick's film 2001: A Space Odyssey, an ape discovers the use of bones as both a tool and a weapon. A bone is thrown into the air, and as the bone spins the form dissolves into an orbiting weaponized satellite. The "match cut" draws a visual and conceptual connection between the two objects as examples of primitive and advanced tools. I went to the RISD Library and found forms that could be sequenced into a book. I photocopied 48 pages from a variety of different books and magazines that contain at least one oval shape. Each image is connected by a match cut to the following image—the oval shape, same as the prompt title. The forms change and evolve as the book progresses.
---
A Manifesto of Slow Living

printed matter
prong fastener
2017︎

This book manifests the slow living lifestyle in this fast-paced world. It contains 200 pages, and each page has one vocabulary or one letter. Readers have to flip and read the whole book to understand the manifesto, which is a metaphor for slowness. The tactile material and the weight remind us of the feel of flipping a book. The book was part of the group exhibition at PRIMER: A Speculative Futures Conference in San Francisco in 2017.
---
The Relativity of Value

RISD thesis website
2021︎

Please interact with the above website (You can rearrange items by dragging them with the mouse).
This is my thesis website showcases my body of work at RISD. My practice is an inquiry into the fluctuation of value. To deconstruct the simplistic consumer tropes of mundane/luxury, simple/complex, or hidden/obvious, I experiment with speculative forms of hybridization using interactive media platforms to create an alternate temporality. Microscopic moments open the door to design opportunities. Through field observations, image sequences, data, and archives of artifacts, I roll out the simple signifiers of symbolic value to pause attention while also exposing the paradox of our consumptive behaviors. More details please visite
website
.